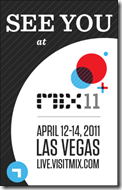 It's almost time for another MIX conference! Once again I'll be there with the Coding4Fun crew showing off some spiffy new projects for attendees to play around with, along with a few other surprises. I'll also be taking part in John Papa's Open Source Fest on Monday evening, demonstrating WiimoteLib and my MJPEG Decoder.
Anyone else heading to the conference? If you are, be sure to stop by the Coding4Fun area in the Connect Lounge and say hello, and stop by the Open Source Fest on Monday night to take a look at over 50 great open source projects and vote for your favorites. I'd say I'd trade drinks for votes, but those are free, too.
And finally, if anyone attending is working on a fun or interesting project and would like to do an interview for my Coding4Fun Show on Channel 9, please let me know.  Almost anything goes, so I'd love to see what everyone out there is working on.
Hope to see you there!