Windows 7 Launch Party in NYC

I had the extreme pleasure of being invited to and attending the Windows 7 Launch Party in New York City on October 22nd. I went down to the city with fellow MVP Bill Pytlovany, author of the popular WinPatrol security software. You can watch a video of the entire launch below or at the official Windows 7 press site. Be sure to watch to the end to get a glimpse of some super-awesome hardware that takes advantage of all Windows 7 has to offer.
All in all, It was quite a day, from getting a picture with Steve Ballmer himself to meeting segment producer and occasional on-screen Late Show with David Letterman character Brian Teta who was amazed I recognized him. Mr. Ballmer was just on his way out of the bathroom only 15 minutes before show-time when Bill and I accosted him and begged for a picture. Frazzled though he was, he agreed and Bill snapped this...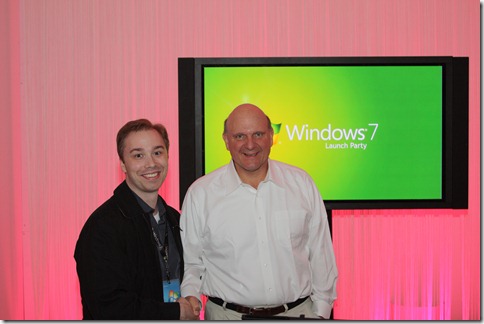 There were plenty of awesome pieces of hardware to play with, including a ton of high-power and super-light laptops, multitouch laptops, multitouch desktop monitors, all-in-one touch-screen PCs, and even an amazing setup of nVidia's 3D Vision running Batman: Arkham Asylum on a large monitor, which I swear is the best consumer-level 3D experience I've ever seen, complete with wireless shutter glasses. You may see a Coding4Fun article about those in the future, assuming I can convince someone to send me a set. Again, be sure to watch the launch video above to the end to see a demo of many of these items and get a feel for what hardware is available now and in the near future.
And on the way out, everyone was given a goodie bag of Windows 7 items, including a copy of Windows 7 Ultimate Signature Edition, "signed" (i.e. embossed) by Steve Ballmer.
A fantastic day and I'm certainly glad I made the trip down to the city to take part in this. I thank Microsoft and the MVP program for the invite and Bill for heading down with me and getting the pic of Ballmer and I. I'm already looking forward to the next Windows launch. :)