Visual Studio Live! – Washington DC 2014
I will be presenting 2 sessions at Visual Studio Live! in Washington DC this October 6-9. The conference is a full 4 day event and there's still time to register and save $400 if you register before 9/10/14! For this event, I'll be presenting:
TH07 Building Your First Windows Phone 8.1 Application
Date: Thursday, October 9, 2014
Time: 9:30am – 10:45pm
Level: Introductory

Expand your mobile horizons with Windows Phone! Developing applications for the phone is quite similar to building XAML applications for other platforms. In this session, Brian will demonstrate the fundamentals of Windows Phone development while building a very simple application which covers all of the important points of the new platform's architecture, including the developer tools, device emulator and touch input. We will also discuss what's new with the Windows Phone 8.1 update and how you can use it to build better apps.

TH11 Building Games for Windows and Windows Phone
Date: Thursday, October 9, 2014
Time: 11:00am – 12:15pm
Level: Introductory

There are a variety of platforms and frameworks which can be used to build games on both Windows and Windows Phone depending on the complexity of the game and the developer's skill level. In this session, we will delve into the many options available to developers, including DirectX, Unity, MonoGame, and more!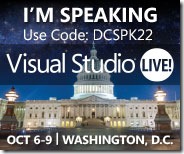 Get more information on the conference at: