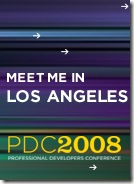 Anyone heading out to PDC2008 this year?  I will be in attendance with (hopefully!) a new Wiimote project and perhaps a few old ones as well.  More details on that when the project is a tiny bit further.  We will also be giving away a free chapter of our new book "Coding4Fun: 10 .NET Programming Projects for Wiimote, YouTube, World of Warcraft, and More" to lucky PDC attendees at the O'Reilly booth.
I will also be co-presenting a lunch session at PDC:
Title: Coding4Fun: Windows Presentation Foundation Animation, YouTube, iTunes, Twitter, and Nintendo's Wiimote
Date/Time: Tuesday, October 28th, 12:45pm-1:30pm
Speakers: Dan Fernandez, Scott Hanselman, Brian Peek, Clint Rutkas
Room: 403AB
Abstract: Spend time with Coding4Fun authors as they walk through some DIY Development projects: TwitterVote, Wiimote, InnerTube, and BabySmash.
You can add this session to your agenda by visiting the PDC site and searching for "Coding4Fun".
If anyone will be attending, let me know so we can meet up for lunch, dinner or a drink.  Hope to see you there!