Mix09 Wiimote/C4F Meetup?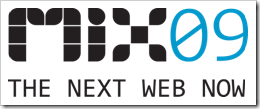 Update: It looks like this is a bust.  Only 3 people have responded with interest, so I'll just get in touch with them and we can meet up.  I'll leave the survey open in case people were holding out on me.  :)
At the very last minute, I was lucky enough to receive a free ticket to Mix09 (thanks Jay!) and have decided to attend.  After posting about it on Twitter, Matthias Shapiro suggested that since both Johnny Lee and I will be there (Johnny's giving a session on the Wiimote), perhaps we should have a Wiimote "hacker" get-together.  I think it would be great to get all Wiimote fans, and even fans of the Coding4Fun website/book together to put names with faces and have some fun.
Sooooo….
I've put together a very quick, 3-question survey to gauge interest in having a meetup and what you'd like to do.  If you'll be attending Mix and are interested, please take the 30 seconds to fill out the survey.  I'll move forward with the plan based on how many people are interested.  There's no sense in putting it all together for 2 people to show up.  :)
Thanks!