Head Banger Is Now Available on Xbox LIVE Community Games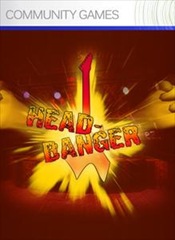 Several friends and I work together to write "indie" video games under the brand Ganksoft Entertainment.  You may recall that for Maker Faire 2007, we created a very simple rhythm-based music game (think Rock Band or Dance Dance Revolution) using XNA called Head Banger.
With Microsoft's official release of Xbox LIVE Community Games with the New Xbox Experience, we decided to blow the dust off of Head Banger, add a couple songs, integrate it bit more with Community Games and XNA 3.0 and release it.  It is now available for purchase for 200 Microsoft Points (or, as with all Arcade and Community games, there's a free trial) straight from the Community Games section of the Games Marketplace on your Xbox 360.  It will be listed under New Releases for a little while, otherwise you can go to All Games and then the letter H to find it.  Additionally, you can view the official Marketplace page on the new web-based Xbox LIVE Marketplace site.
Please give the trial a go and let us know what you think!  And, if you think it's worth 200 points ($2.50), we'd be happy to have you purchase it so it will move up the "popularity" list.  Thanks!