Coding4Fun Book News and Preview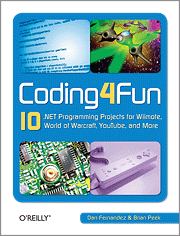 I received my first copy of the book on Friday afternoon and it looks great! It is now also listed as "In Stock" on Amazon. Additionally, there is now a Google Preview of the book If you'd like to see a preview of the book, you can do so by clicking the Google Preview link below, or navigating directly to the Google Book Search page for this book.
We have also been busy updating the book's main site, www.c4fbook.com, with source code, color images, project links, etc. It's not complete, but we should have it wrapped up in the next few days.
I can't think of a better holiday gift for the geek in your family than this, but, I may be a bit biased…